We are pleased to announce that the 2018-Q4 product release is complete and will be available on your service cluster on the following schedule. There is nothing required for you to take advantage of this release. Your account will be automatically upgraded:
Beta Cluster Clients: Beta is already running Q4
Cluster 2 Clients: Wednesday, November 28, 2018
Cluster 12 Clients: Thursday, November 29, 2018
All other shared Clusters: Not applicable at this time
Dedicated Clusters: As scheduled with your Client Success Manager
This service bulletin describes the quarterly product release and is organized by major product area. Included in each feature description is the "Work Item #" (WI#) from our product issue tracking database; where applicable. This is included for your reference in the event our support team provided you with a Work Item # for the support incident you submitted.
Release Highlights
Here are some of the key new enhancements included in this release.
Loyalty Enabled Gift Cards – This release includes an exciting new feature that enables you to loyalty enable your gift cards. You can now define a program that rewards benefits to your customer's registered gift card. We are pleased to announce that bLoyal has a certified plugin to the First Data ValueLink® You can define program rules where the customer gets their award on their registered gift card and redeemed as a gift card tender.

Track and Reward Referral Customers – With this release we added the ability for you track and reward customer referrals. The bLoyal Loyalty Engine can now track the referral customer and sponsor customer assigned to a sale in addition to the direct customer. This enables you to run a referral program and reward your referral partners and club gift membership sponsors. An accrual rule now has an option to select the target customer type that the award goes to (see below).

Limit loyalty accruals per number of visits (WI#6845) – You can now limit the number of times a loyalty accrual rule triggers based on the number of transactions (i.e. visits) per day, week, or month. This enables you to more easily run visit-based reward programs that can be limited to the first N visits per period. As part of this feature there is a new setting on the Loyalty Accrual Rules editor (see below). The default is to not limit, but there are times when clients want to be able to limit the number of accrual awards.

The following sections provide information on the rest of the enhancement made for this release.

bLoyal Director - Enhancements
The Director modules below map to the Module bar within Director. The bLoyal Edition you are subscribed to determines which modules you have access to.

Insight Module
Fixed Dashboard Indicator Configuration (WI#6598) – In previous releases several of the Dashboard indicators were failing to load the configuration screen. This issue has been resolved.
Enhanced Frequent Buyer Reports – Enhanced the Frequent buyer reports to be able to show externally applied (i.e. manually applied) awards. There is now a report parameter option to select whether you want to include externally applied awards.

Customers Module
Added support for the disallow editing of a customer at the POS (WI#6856) – The flag on the customer record to "Allow changes to this customer at the POS" is now fully implemented with the POS Snippets. The flag defaults to enable editing but can be unchecked to disallow changes to the customer at the POS. This is useful for standard "retail" customers that your cashier's assign to the transaction.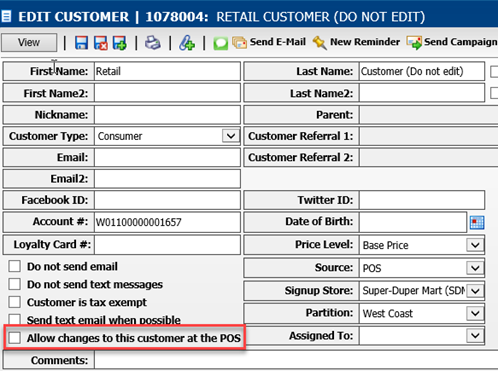 The customer externalId list now shows merged customer externalIds (WI#6812) – You can now see the externalId's for merged customers in the Link/Unlink actions within the customer module. This makes it easier to see how the bLoyal Dynamics Resolution Technology (DRT), auto-merges customers from external systems. This also fixes the issue with not being able to unlink the externalId's for merged customers.
Mailings Module
No significant changes were made to the mailings module.
Loyalty Module (including Loyalty Engine)
Awarding accrual rules to Referral customers and Sponsor customers – The accrual rule award section now has an option to choose whether you want the award going to the Customer, Referral Customer, or club membership Sponsor.

Added for triggering $0 value promotion rules (WI#6732) - Some clients wanted to be able to trigger a promotion rule that awarded $0 value for reporting and so that other awards could be triggered. This is now supported.
Loyalty Program editor now shows V4 discount rules (WI#6172) – The Loyalty Program editor screen used to show old legacy discount rules. It has been updated to show the correct V4 rules.

Inactive loyalty programs no longer exposed outside of Director (WI#6512) – When you inactivate a Loyalty Program in Director, the problem and associated memberships will no longer be exposed at the POS and Web. Previously the program and program memberships would still show at the POS even though benefits would not apply which was confusing.
Orders Module (including Order Engine)
Expired Discounts are now maintained on Approved status orders (WI#6820) – Fixed an issue where if a web store order was placed at the time when a discount was active but then processed to delivery when the discount was inactive, the discount amount would be removed.
Enhanced Multi-Package order support (WI#6786) – Fixed several issues with the Director multi-package order support, including the following:

The Add Multiple button for adding multiple shipments to an order has been fixed.
Added checks to make sure there are no empty packages on the order.
Change the line item sorting order to be by package instead of by product so it's easier for users to see which products are in which package.

Default sales rep on Web and POS orders is now being set correctly based on the device configuration (WI#6788)
Improved club run performance and shipping file batching during club run processing (WI#6842) – We have made improvements the speed of the club run processing. You now also can have the system batch shipping files every N orders (e.g. every 500 orders) so that for large club runs, shipping files are being created while the batch is still processing so you can start to fulfill orders prior to the entire club run completing.
Fixed Order filtering issues including filtering by multiple channels (WI#5988 & WI#6545)
Problem order status filter now works when creating order batches (WI#6185)
Product Assemblies now broken into components before calling ShipCompliant (WI#6568 & WI#6575) – We have had an issue since launching V4 where product assemblies were not being broken out into their component products correctly before calling ShipCompliant. This has been fixed.
Ship tracking link included in shipping confirmation mails (WI#6844) – The tracking link is now included in the shipping confirmation mail.
You can now add order notes to canceled orders (WI#6789)
The apply coupon list now gets available coupons from the Loyalty Engine (WI#6473) – The apply coupon UI on an order now has a "Find…" button to select the coupon from the correct list of available coupons from the Loyalty Engine. Previously, it was still getting the list from the legacy rules and new V4 coupon rules were missing.

Products Module
No significant changes were made to the mailings module.
Channels Module
Channels Module – Web Snippets
Updated Customer Account Management - The account management snippet was enhanced to include support for customer registered gift cards. This allows customers to register their gift card (e.g. First Data ValueLink® card) for earning loyalty benefits. To expose this section of the Account Management page you just need to select the "Registered Card" section of the Web Snippet Profile.
Customer entered loyalty card numbers with validate (WI#6667) – Some clients asked for the ability for customers to enter their own loyalty card number so it's easier for a customer to remember while standardizing on the format of the number. The following loyalty card number configuration is available on the account management snippet and customer signup snippet.
Channels Module – POS Snippets:
All lists now support column sorting (WI#6656) – Tall the lists in the View Customer POS Snippet now have sortable columns.
Fixed issue with customer referrals and customer options not saving on POS Snippets (WI#6400 & WI#6827)
Payments Module
Added support for First Data ValueLink® - Added First Data ValueLink as a certified gift card provider in bLoyal.
Setup and Tools
Coupon import tool fixed to used new V4 rules (WI#6597)
Added Language Code to Company Profile and Store configurations – The Language Code in the Company Profile configuration and Store configuration is now used for the localization settings in Director, POS Snippet, and Web Snippet UI. It will for example determine how dates are displayed (e.g. MM/DD/YYYY or DD/MM/YYYY) depending on the language code selected. The language code on the company profile (see below) is the default setting for your account but it can be overridden at the Store level for multi-locale companies.

Added Reason Code and Comment to Frequent Buyer Transaction Import tool (WI#6739)
bLoyal API and Integration Support
The bLoyal platform is available to developers via Web APIs for the following bLoyal systems.
Web Snippets API – Enables a web developer to easily add bLoyal to your web site.
Grid Service API – Integrate your backoffice system with bLoyal.
Loyalty Engine API – Loyalty promotions and accruals integrated with certified connections Loyalty
Order Engine API – Order processing for order certified connectors
This section briefly describes updates to the bLoyal web APIs.
Web Snippets
Web Snippet APIs have been updated to support Loyalty Engine Gift Card capability.
POS Snippets
All lists now support column sorting (WI#6656) – Tall the lists in the View Customer POS Snippet now have sortable columns.
Grid Service
Added several new entities to the Grid service – Several new entities were added to the Grid API. To see the full list of resources supported by the grid see the swagger definition: https://grid.bloyal.io/swagger
Enhanced the Exception Queue UI – The grid monitoring UI (Director->Setup->Grid Setup) is used to troubleshoot integration issues. The entity exception queue UI was made more useful by adding support for searching by specific connector instance and added paging support.
Enhanced the CatalogProducts API to be store specific (WI#6061) – The grid catalog product APIs now correctly filters catalog products by catalog and store. This fully enables support for having separate Ecommerce sites with different products published to each store.
POS and Ecommerce Integrations
There is no need to upgrade your POS or Ecommerce connectors as part of this release. We send out separate notifications when connector updates are released.