We are pleased to announce the 2020-Q1 quarterly product release is complete and will available on your service cluster on the following schedule. There is nothing required for you to take advantage of the release. Your account will be automatically upgraded in the late evening on the following date:
Beta cluster clients: Beta is already running the latest release
Cluster 2 clients: Monday night March 16, 2020
Cluster 10 & 12 clients: Wednesday night March 25, 2020
All other shared clusters: Not applicable at this time
Dedicated clusters: As scheduled with your Client Success Manager
Please note, the cluster number usually coincides with your Director login page, e.g. director2.bloyal.com would be cluster 2, and director12.bloyal.com would indicate cluster 12.
This service bulletin describes the quarterly product release and is organized by major product area.
RELEASE HIGHLIGHTS
Here are some of the key new enhancements included in this release.
Support for standard Customer Dynamic Segments - We now support a wider variety of standard dynamic segments. A dynamic segment is a customer list that is dynamically kept up to date. The following dynamic segments are now available standard for every client. Custom dynamic segments can be added on demand for a small fee.

Event based segments

Customers with Birthdays this month
Customers with Birthdays today

Active customer segments

Active customers - 1st purchase
Active customers - 2nd purchase

Member milestone segments

Customers who accrued loyalty points yesterday
Customers awarded loyalty currency yesterday
Customers in their 1st month since joining
Customers in their 2nd month since joining
Customers in their 3rd month since joining
Customers in their 6th month since joining
Customers in their 12th month since joining

Lapsed customer segments

Lapsed Customers - 1 month since last purchase
Lapsed Customers - 2 months since last purchase
Lapsed Customers - 3 months since last purchase
Lapsed Customers - 6 months since last purchase
Lapsed Customers - 12 months since last purchase
Improved support for "Choice Rewards" programs - You can now select a quantity when applying coupons. This is useful for choice rewards programs and other types of coupon applied promotions where you can select the # of times coupon can be applied to a sale.
MyRewards Mobile App - We now provide a simplified mobile optimized web application as part of bLoyal Core edition. The MyRewards mobile app provides a simple way for your customers to signup, see their loyalty account balance, and existing promotions you want to highlight. You can brand the application via logo and colors.
Client Auto provisioning and configuration assistant for bLoyal Core edition - It is now much easier for client and partners to create accounts. Core edition users can more easily configure their loyalty program and customer engagement with the bLoyal configuration assistant.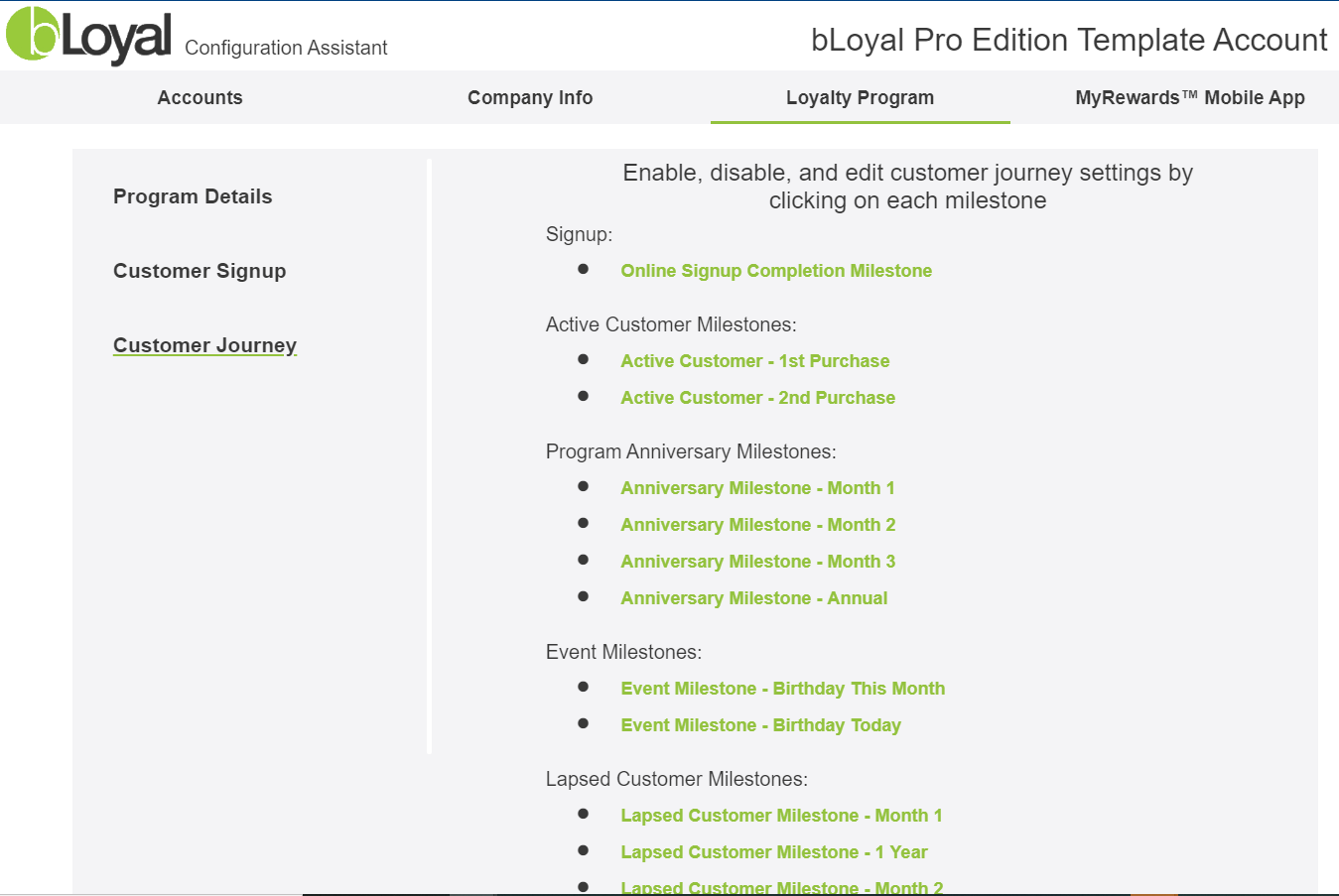 The following sections provide information on the rest of the enhancement made for this release.

BLOYAL DIRECTOR - ENHANCEMENTS
The Director modules below map to the Module bar within Director. The bLoyal Edition you are subscribed to determines which modules you have access to.

Insight Module
The Channels report section now has the following 2 new reports:

Device Configuration Summary Report - Shows the configuration summary for each device in your account.
Sales Transaction per day report - This report provides a quick view of how many sales transactions and loyalty transactions have been processed for you stores per day.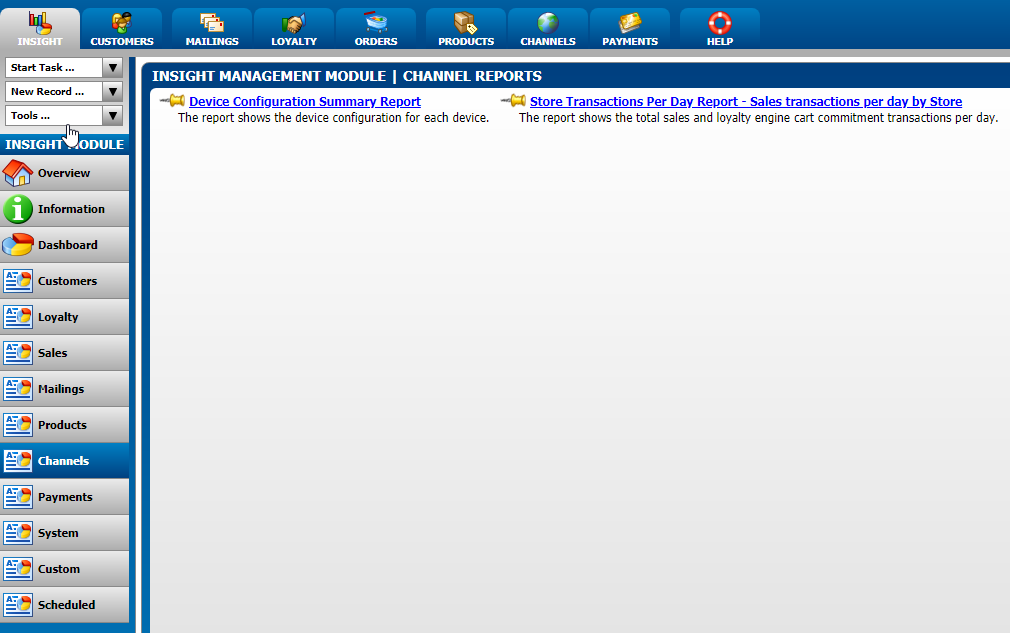 Loyalty Rewards store allocation report - Added a new Loyalty Rewards store allocation report that shows the loyalty awarded per store. This is useful for attributing the awards and redemptions to specific stores for accounting/auditing.
There were several other minor changes to existing reports; mostly via additional columns and filters.
Customers Module
"3 Most recent awarded coupons" list corrected (WI #7151) - There was previously a problem where the last 3 recent award coupons were not displaying in the customer details UI.
Blank shipping address titles now will be default in Director - Previously when adding or editing a shipping address and not entering an address title the address would be saved with a blank title which made it hard to recognize when used via a web store. Now when saved in Director it will be defaulted with the address info.
Support for deleting customers with loyalty transactions - Previously the system would not allow you to delete customers with loyalty transactions. This was causing issues for clients since they often award points at signup and were not able to delete a customer. What we do now is generate loyalty transactions to void the customer's balance to maintain auditability and then delete the customer.
Fixed issue where adding a customer to a list in Director didn't update the customer's loyalty program status immediately (WI #7370) - The update would happen but wouldn't apply until the next day since it was a daily process prior.
Mailings Module
No significant changes were made to the mailings module.
Loyalty Module (including Loyalty Engine)
Coupon Usage Limits now fully supported - The coupon usage limits for Standard coupons are now fully supported. You can limit the number of times a coupon can be used in total (e.g. coupons used for grand Openings) and limit the number of times a coupon can be used per customer.

Expire Coupon Awards - There is now a setting on the awarded coupon definition screen that enables you to automatically expire awarded coupons after a specified # of days. Previously a custom chore would need to be created for this.
Expire Loyalty Points & Loyalty Currency - There is now the ability to automatically expire loyalty points or loyalty currency after a specified number of days. Previously a custom chore would need to be created for this.
Coupons selected but not applied no longer being marked as used (WI #7179) - This fixes a bug where if an awarded coupon was added to a sale but the coupon didn't actually get applied, it was still being marked as used.
Coupons will be awarded even if a device is not marked as a "Trusted" device, e.g. Web store devices (WI #7280) - Redemption cannot happen on a Device that is not marked as "Trusted" if a customer has not been validated. However, accruals still happen in this case. Coupon awards should also be processed. That issue has been fixed.
Promotion rules can now be triggered based on bLoyal Catalogs - Catalog sections can now be used similar to Department and Categories for targeting loyalty engine rules.
Orders Module (including Order Engine)
Order package instructions visible in more areas - The order package instructions are now searchable in the Orders list in Director and searchable and visible in the Packages list. Additionally they have been added to the shipping exports as "Special Instructions".
Optimized the pickup-to-ship tool - Updated the functionality of the order pickup-to-ship tool with better handling of returns and inventory and fulfillment transactions.
Support for Line Options on order lines - This is available via the APIs to enabled 3rd party integration to add line modifiers. The system supports any option via a Name/Value pairs. This can be used for customized orders (e.g. Etching on bottles).
Shipping files now correctly export "adult signature required" flag (WI #7049)
Fixed issue where shipping return would result in the order going out of balance (WI #6914)
Fixed an issue with canceling POS Shipping orders in Director - You can now return POS Shipping orders in Director and mark the payment as "Externally Captured" if you returned the payment at the POS. Previously this scenario was failing. This scenario provides a way for you to do partial POS shipping order returns. However, please keep in mind that when you do this a sales transaction is created in Director also.
Default channel and default shipping Services not set on orders - We eliminated some of the clicks required for creating new orders by making sure the default channel and shipping services were automatically assigned when creating new orders. Previously you would need to manually set these.
Products Module
No significant changes were made to the mailings module.
Channels Module
No significant changes were made to the mailings module.
Payments Module
No significant changes were made to the mailings module.
Setup and Tools
User Type and Data Access section on the user profile - The Director User management area now has a new "User Type and Data Access" section (see below) to manage the type of user and to provide additional API access for a user. We now support the following levels of users:

Standard
Professional
Enterprise
Standard user types will continue to be included in your base Director subscription. Professional and Enterprise users will have an additional per user fee. For example, clients with a reporting database provisioned, now can enable Enterprise users types to have access to the reporting database directly without having to request access from bLoyal. Users with reporting database access can use their Director username and password to access the reporting database.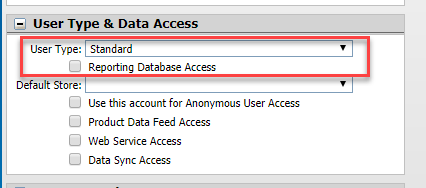 Sales Transaction Update Tool (import tool) - There sales transaction import tool was updated to allow for updating more fields on existing sales transactions.
Fixes to the Customer Import tool (WI #7188) - The customer import tool was failing to update some fields. This issue has been fixed.
Added support for organization units - This is useful when setting up replication to 3rd party systems where a given system handles all stores in an organizational unit.
Added a default POS Snippet profile setting - For clients that have multiple POS Snippet profiles you can now set one as the default so that it will be automatically assigned to new devices when they are created.
bLoyal APIs and Integration Support
The bLoyal platform is available to developers via Web APIs for the following bLoyal services.
Web Snippets API – Enables a web developer to easily add bLoyal to your web site.
Grid Service API – Integrate your backoffice system with bLoyal.
Loyalty Engine API – Loyalty promotions and accruals integrated with certified connections Loyalty
Order Engine API – Order processing for order certified connectors
This section briefly describes updates to the bLoyal web APIs.
Web Snippets
Better support for club member product preferences in API (WI #7345 & WI #7369) - The club membership and signup APIs now support club member product preferences and the ability to return linked products.
Fixed an issue where the API would fail sometimes getting a customer session - This would result in snippets returning an empty page
Added AwardedCoupons resource to the Web Snippets API - The web snippets API now supports getting a list of awarded coupons for a customer. Previously an integration would need to get this from the Grid API. This will make it easier for web developers writing custom account management pages.
POS Snippets
Order Comment and date calendar control added to Create Order snippet - The Order Comment field was added to the Create Order POS snippet similar to what we used to have in V3. Additionally a calendar control date picker was added to the estimated shipment date to make it easier for cashiers to select the correct day.
Fixed issue with Custom fields not showing on Quick Edit (WI #7308) - The custom fields were being set correctly but not showing value set when viewing the field via the Quick Edit POS Snippet.
Loyalty Engine
Real-time Web Hooks - We now provide real-time web hooks to get notified and extend functionality of the Loyalty Engine. This is mostly an API update but can be used by Service Providers and Client for custom capabilities (e.g. Recommendation services, Cashier Alerts, etc...). Web Hooks are exposed at each phase of the transaction.
Loyalty accruals based on final sales for disconnected scenarios - Some 3rd party systems don't always commit the cart at the time of the sale. These accruals are committed later when the sales transaction comes up to bLoyal. Previously, the amount to accrue would be based on the last loyalty engine calculate call that was made. This may not always be correct if the transaction was changed after the last calculate call. As a result, we now base the loyalty accruals on the sales transaction that was submitted if they cart has not already been committed with bLoyal. This eliminates a problem that can occur with partially online integrations.
Grid Service
ReplaceIfExists and ModifyIfExists for sales transactions - The grid sales transaction APIs now support modifying existing transactions. This can happen in one of two ways: ReplaceIfExists and ModifyIfExists. When the ReplaceIfExists flag is set on submitted sales transaction and there is a match already found in bLoyal then the existing transaction will be voided (i.e. a return transaction will be created) and a new transaction will be created. If the ModifyIfExists flag is set then the existing transaction will be replaced with the new transaction (i.e. modified in place). In either case the new transaction will not affect loyalty accruals or redemptions. The loyalty accrued or redeemed will be what was on the original transaction. These new flags are useful for when you want to update something about a transaction for reporting purposes or for system that can change the original transaction without generating new ones (e.g. the Tock reservation system).
Negative inventory commitments filtered out from available inventory API (WI #7178) -
POS and Ecommerce Integrations
There is no need to upgrade your POS or Ecommerce connectors as part of this release. However, we recommend that you check the version you are running and upgrade to the latest published version when the time is right for you.
The latest downloads for bLoyal developed connectors can be found here: http://support.bloyal.com/integrations