Pro Edition is the second-tier version of the bLoyal product. It includes all of the features of Core Edition, plus SKU-level accruals and rewards, outbound marketing, customer segmentation, gift card functionality, and the ability to create and assign coupon awards. To see a complete list of features visit www.bloyal.com/pricing.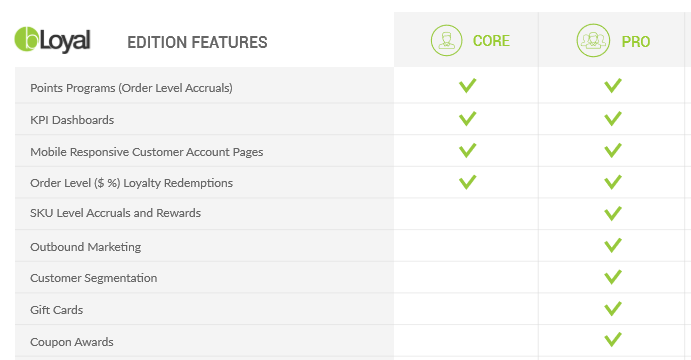 Director is the control center for your bLoyal services. Here, you have access to the following modules:
Insight (Reports): This is where you will find your Dashboard and reporting on everything from customer to sales transactions to loyalty balances. Custom reports are available as a consulting project; please reach out to support@bloyal.com for more information.
Customers: Within the Customers module, you have the ability to create and manage customer profiles, customer lists, and subscriber groups.
Mailings: The Mailings module allows you to manage email campaigns and newsletters.
Loyalty: This module is where you will be able to view loyalty transactions and coupon awards.
Orders: The Orders module gives you the ability to view sales transactions.
Products: This module is where you may view your product details. Product editing, however, should take place in the product master system (generally your POS system).
Channels: Here you may view your stores and their associated devices. In this area, you may Inactivate a device that is no longer being used to end future billing for that device.
Payments: This module is where gift cards and eGift cards can be viewed and managed, and gift transactions can be viewed.
POS Snippets allow you to view and manage customer accounts from your POS devices, assign a customer to the active transaction, adjust a customer's loyalty points balance, and apply a coupon to the active transaction.